COSMEF Srl is the result of merging between the companies COSFER and OMEF.
Both companies joined a long experience in railway rolling stock component construction and maintenance.

COSFER history
1922 Pietro Marchetti founds a cooperative company for wine wagons maintenance in a small area near the Rogoredo station in Milan
1945 Following the success of the activity, the original cooperative became the private company Marchetti & C
1956 Further workshop area enlargement (10.000 sqm) and purchase of participation in the Officina Nardelli – Foggia (south Italy)
1956-1990 Construction and revamping of more than 500 tank wagons and special freight wagons.
1982 The Company becomes COSFER SpA
1980-1995 Long time contract with Italian Railways Company for maintenance of intermodal wagon (Poche series)
1995 ISO 9001 certification
2005-2012 Contract with ATM – Azienda Trasporti Milanesi for overhauling of 600 metro- train bogies.
OMEF history
1980 Factory establishment for wagons overhaul/maintenance in Tortona – 10,500 sqm
1990-2002 Factory enlargements with a new layout (up to 32,500 sqm – 7,370 sqm covered)
1990-2002 Construction of 550 double-deck wagons; design, engineering and prototype of a covered wagon and a small wheel double-deck wagon
2004-2008 Construction of 100 lowered double-deck wagons and revamping of 420 wagons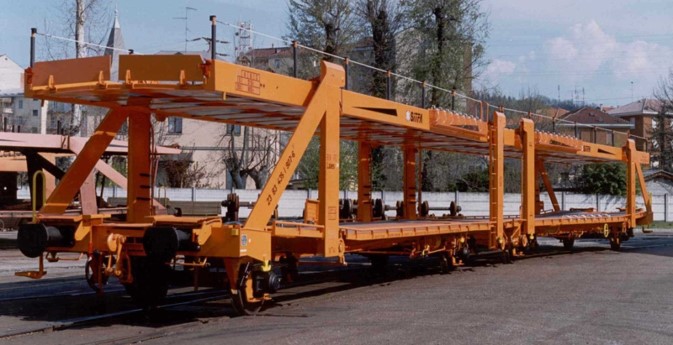 Merging operation
2008 COSMEF MERGING OPERATION
2010 Start-up with HUPAC S.A of workshop facility in the intermodal compound in Busto Arsizio (maintenance of intermodal wagons)
2012 Start-up with HUPAC of new workshop in Busto Arsizio dedicated to wheelset maintenance (VPI, IS1, IS2, IS3)
Today COSMEF means:
Main production location: Tortona
Workforce: 110 employees (5 engineers: design, IWE engineering, quality and production, III° lev. NDT)
2012 turnover: 11 million €